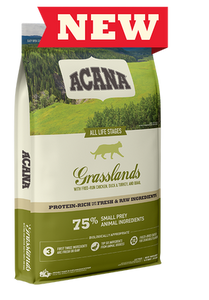 Grasslands ACANA Dry Cat Food 5.4kg
Your cat is an obligate carnivore, requiring a diet that is rich in animal protein. Inspired by our vast grasslands and cold northern lakes, ACANA Grasslands is brimming with grass-fed lamb, free-run duck, cage-free eggs, wild-caught fish, and free-run turkey in WholePrey ratios of meat, organs, cartilage, and bone. Our ingredients are delivered to our kitchen fresh or raw by people we know and trust, giving your cat the best ingredients and a recipe that will keep them happy, healthy, and strong.
Ingredients: Raw grass-fed lamb (8%), fresh duck (8%), fresh eggs (8%), lamb meat meal (8%), whole herring meal (8%), turkey meal (8%), whole green peas, whole red lentils, whole chickpeas, lamb fat (6%), fresh wild-caught northern pike (5%), raw lamb liver (4%), fresh duck giblets (liver, heart, kidney) (4%), fresh turkey meat (4%), whole green lentils, whole pinto beans, whole yellow peas, pollock oil (2%), sun-cured alfalfa, dried lamb cartilage (1%), raw lamb tripe (1%), dried brown kelp, fresh pumpkin, fresh butternut squash, fresh parsnips, fresh green kale, fresh spinach, fresh mustard greens, fresh turnip greens, fresh carrots, fresh apples, fresh pears, freeze-dried liver (lamb and duck) (0.1%), fresh cranberries, fresh blueberries, chicory root, turmeric root, milk thistle, burdock root, lavender, marshmallow root, rosehips. ADDITIVES (per kg): Technological additives: tocopherol-rich extract of natural origin. Nutritional additives: Choline chloride 1000 mg, zinc chelate of amino acids hydrate: 100 mg, Copper chelate of amino acids hydrate: 10 mg.
---
We Also Recommend
---