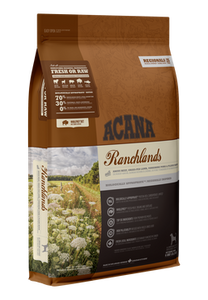 Regional Ranchland - ACANA Dry Dog Food 11.4kg
ACANA Ranchlands is loaded with ranch-raised beef, Yorkshire pork, grass-fed lamb, ranch-raised bison, and wild-caught fish. Mirroring the diet Mother Nature would provide for your dog in the wild, we use whole animal ingredients including meat, organs, cartilage, and bone so your dog is getting everything they need to stay happy, healthy, and strong.
Ingredients: Fresh ranch-raised beef (8%), raw grass-fed lamb (7%), fresh yorkshire pork (7%), beef meat meal (7%), lamb meat meal (7%), pork meat meal (7%), whole green peas, whole red lentils, whole chickpeas, beef fat (5%), fresh beef liver (4%), fresh pork liver (4%), fresh bison (4%), fresh wild-caught walleye (4%), whole green lentils, whole pinto beans, whole yellow peas, sun-cured alfalfa, fresh beef kidney (2%), pollock oil (2%), lentil fibre, dried beef cartilage (1%), raw lamb tripe (1%), dried brown kelp, fresh pumpkin, fresh butternut squash, fresh parsnips, fresh green kale, fresh spinach, fresh mustard greens, fresh turnip greens, fresh carrots, fresh apples, fresh pears, freeze-dried liver (beef, lamb, pork) (0.1%), fresh cranberries, fresh blueberries, chicory root, turmeric root, milk thistle, burdock root, lavender, marshmallow root, rosehips. ADDITIVES (per kg): Technological additives: tocopherol-rich extract of natural origin. Nutritional additives: Vitamin E: 100IU, zinc chelate of amino acids hydrate: 100 mg, copper chelate of amino acids hydrate: 10 mg, taurine: 500 mg.
---
We Also Recommend
---